Final Grasping Results and Integration with DSR
DATE : August 7, 2020
In this post, I show the final results of object grasping, using the entire pipeline. Also, I share our integration strategy with DSR graph and the new architecture.
Final Grasping Results (Second Demo)
In the previous post, I showed the complete system integration and the results of path planning using the estimated poses. However, the system should be tested on object grasping and manipulation, as well. Consequently, I managed to extend the embedded Lua scripts with gripper control functions. Then, viriatoGraspingPyrep component was updated to call these scripts using PyRep API. This way, we have a complete grasping pipeline in viriatoGraspingPyrep component, which goes as follows :
viriatoGraspingPyrep component opens the arm gripper through embedded Lua scripts.
viriatoGraspingPyrep component captures the RGBD signal from the shoulder camera and passes it to pose estimation components.
Pose estimation components estimate objects' poses and send them back to viriatoGraspingPyrep component.
viriatoGraspingPyrep component, then, creates a dummy with the estimated pose and calls the embedded Lua scripts to perform path planning.
The arm gripper is, then, closed and thus the object is grasped.
From there, we can create other dummies for the arm to manipulate or move the object to another position.
Following this procedure, I managed to integrate the full grasping pipeline and create a full demo for grasping using DNN-estimated poses. I used an ensemble of both RGB and RGBD estimated poses to perform pose estimation. Also, I included multiple objects in the scene to provide more challenge for both pose estimation and grasping.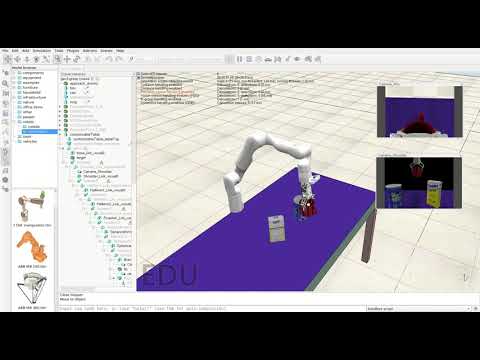 Figure(1): Video of grasping second demo.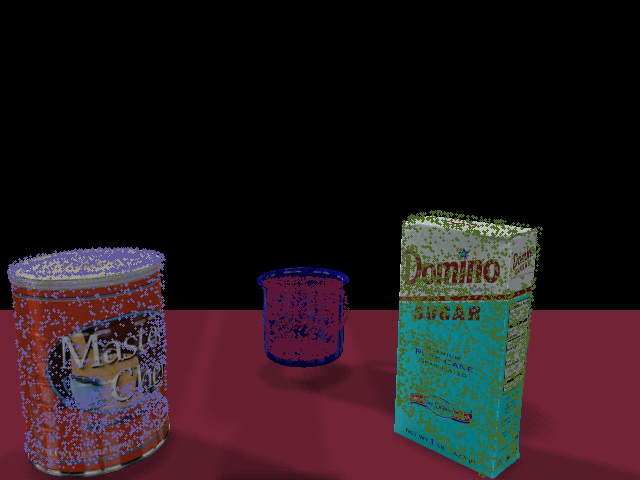 Figure(2): Visualization of the DNN-estimated pose in second demo.
DSR Integration Strategy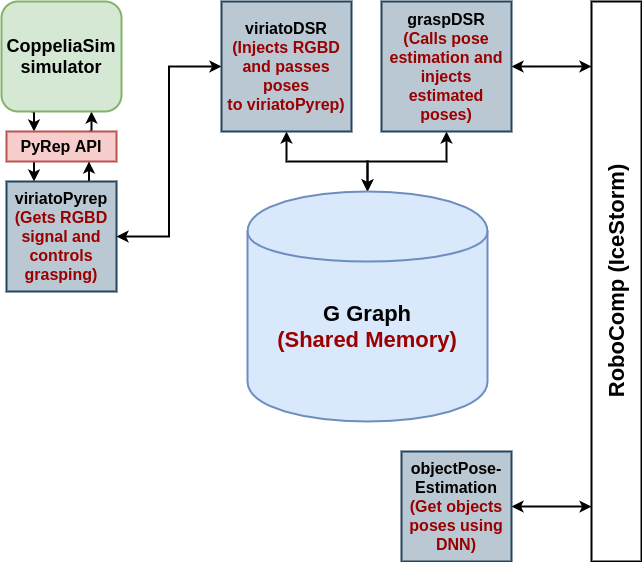 Figure(3) : Simplified schema for grasping and pose estimation integration with DSR.
As shown in the figure, the components workflow goes as follows :
viriatoPyrep component streams the RGBD signal from CoppeliaSim simulator using PyRep API and publishes it to the shared graph through viriatoDSR component.

graspDSR component reads the RGBD signal from shared graph and passes it objectPoseEstimation component.

objectPoseEstimation component, then, performs pose estimation using DNN and returns the estimated poses.

graspDSR component injects the estimated poses into the shared graph and progressively plans dummy targets for the arm to reach the target object.

viriatoDSR component, then, reads the dummy target poses from the shared graph and passes it to viriatoPyrep component.

Finally, viriatoPyrep component uses the generated poses by graspDSR to progressively plan a successful grasp on the object.
Important Dates
Finish the whole grasping pipeline and create a complete demo.
Commit : https://github.com/robocomp/grasping/commit/e503dd4ef2afd8b1b351bdc684df0cda54c73529
Merge the two pose estimation components into objectPoseEstimation component for integration with DSR.
Commit : https://github.com/robocomp/grasping/commit/affe68dbe0a0866e25c39608c96e1b02b453e8a0
Upcoming Work
Start working on graspDSR component.

Test the grasping pipeline through the new architecture.

Write a full documentation on integration with DSR.

Final evaluation and code submission.
Mohamed Shawky