Hand Gesture Recognition
August 24, 2020
In this article, I will elaborate on the method used by me to recognize hand gesture and it's accuracy. For achieving this, I created the Hand Gesture Recognition component. This component achieves the final and the most important objective of my Google Summer of Code project. I have already talked about the dataset creation, different methods in the components and purpose of each in my last blog.
Since this is my last blog, I will also mention future work that can be done to improve the component.
Method Used
I used Support Vector Machine (SVM) to recognize gestures in this component which is a supervised learning technique. I used one vs one technique of the SVM, in which, for every pair of classes a classifier is trained that maximize the distance of data points from the hyperplane separating them. All these hyperplanes are then used to predict the class for the new data.
I decided to use SVMs because of following reasons:
Training and testing SVM is faster, so we can train for custom classes on every run.
SVM is effective in high dimensional spaces. Hand Keypoints on which we are training are 42 dimensional.
SVM is memory efficient, so fewer resources are required.
Unlike in neural networks, SVM is not solved for local optima.
Risk of overfitting is very less in SVMs
I also considered other techniques like CNN (High training time so can't train for custom classes every time), KNN (Can be trained and tested in real-time, but accuracy was low compared to SVM).
Future Work
In this project, I have created a basic structure and properly functioning components for gesture recognition in real-time. But some improvements can be made, which are mentioned below:
Accuracy of gesture recognition can be improved by using a larger dataset of keypoints
In this project scope of gestures was limited to ASL alphabets, in the future, we can improve this component to work for a wider range of gestures like ASL words. Also, since ASL alphabets are single-handed, we can work on two-handed sign languages like British Sign language.
Project Demo
I have made a video demo explaining the steps to run the component.
Youtube Link: https://youtu.be/1JFvr_lMYTo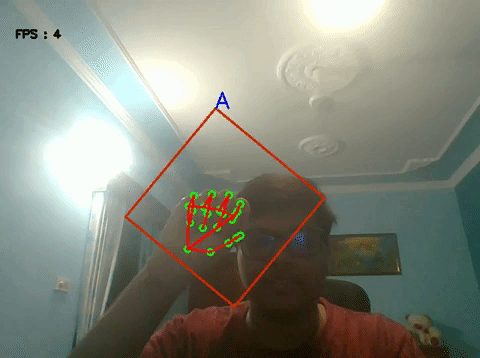 For experiencing this yourself, visit handGestureClient Component and follow the the given instructions.
Thanking Note
The whole journey of Google Summer of Code has been really exciting. It was a brilliant learning experience as I was working on the problem of this kind for the first time. There were some challenges I faced and it was fun solving them.
I would like to thank Aditya Aggarwal, Francisco Andrés, Esteban Martinena Guerrero, and Pilar Bachiller for helping me overcome challenges and giving constructive suggestions throughout the project.
---
Kanav Gupta